Eating in Kathmandu is a true joy, so we've compiled a list of the best restaurants in Kathmandu. There are many wonderful restaurants with a wide variety of cuisines and most of them are very reasonably priced. Here are a few of our favorite places to eat in Kathmandu!
The best restaurants for cheaper eats:
Great midrange restaurants:
Pilgrims 24 Restaurant & Bar is located in Thamel. It's a small space with a relaxed vibe, which is something you might like after spending time in Thamel! They have good momos. Here's a map to get to Pilgrims.

Roadhouse Cafe has locations all around Kathmandu. The most iconic one is probably in Thamel, but they also have locations in Boudha, Jhamsikel, Bhatbhateni, and Lalitpur. Bonus they have a new place in Pokhara as well! They have great wood-fired pizzas, salads, momo, and desserts. All their restaurants have a relaxed and friendly environment.

Fire and Ice Pizzeria is located at the entrance of Thamel. It serves traditional, Italian pizza in a cozy and friendly environment. Sometimes it can get a bit noisy, but it's overall a good experience. Here's a map to Fire and Ice.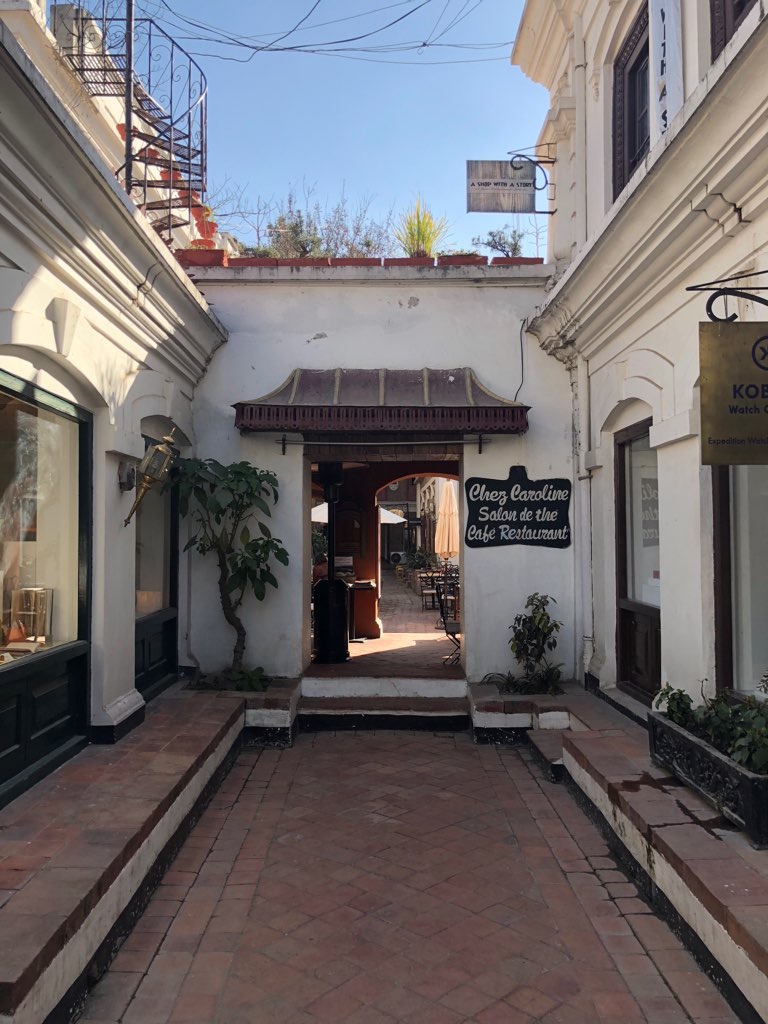 Chez Caroline Restaurant at Baber Mahal
Our favorite higher-end restaurants:
Chez Caroline is located in the lovely and quaint Baber Mahal revisited. It's a French restaurant that serves wonderful cheese, wine, and profiteroles. The main courses are usually quite good as well. It's an open-air restaurant with several outdoor tables in a courtyard.

Dwarika's Hotel has three restaurants – Krishnarpan (Nepali cuisine), Mako's (Japanese cuisine), and Toran (world cuisine – all-day dining). Krishnarpan and Mako's are more formal environments and serve delicious, somewhat expensive food. Toran is mostly outdoors and located throughout Dwarika's extensive and beautiful courtyard.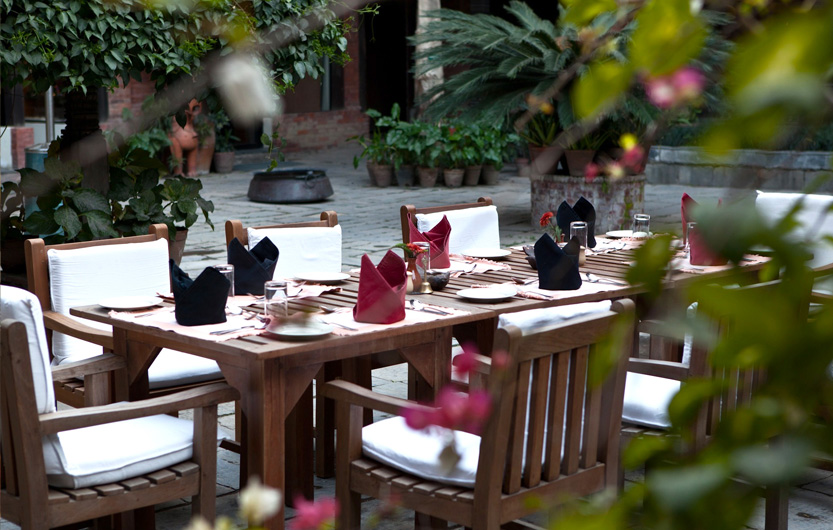 Toran Restaurant at Dwarika's Hotel
You might also enjoy our guide on where to shop in Kathmandu and why you should visit Pokhara.
---