Finding unique hostess gifts is a bit of an art form. For most dinner parties or events, a bottle of wine or a nice candle will suffice (and be very appreciated!).
If the host or the party calls for a more unusual hostess gift, here are five ideas for unique gifts.
Below are 5 ideas that should stoke your creativity when it comes to finding a unique gift!
There's a DIY option (the flavored sugar), cheaper options (herbs and salt), and a slightly more expensive option (olive tree adoption) that might be best suited as a larger gift – perhaps for someone who is hosting you for several nights.
---
1. A Set of Salt
One of my favorite hostess gifts to receive is unusual salt – even better would be to get a bunch of salt! Why not put together a gift bag with three unique salts? We recommend:
---
2. Fresh Herb Plants
Everybody loves fresh herbs! They smell great, they taste great, and they're surprisingly easy to grow.
This organic herb collection is a great gift.
---
3. Scented Sugars
It's incredibly easy to make scented sugars – they're delicious in cocktails, baked goods, and an afternoon cup of tea.
You can DIY your own – here are a few ideas:
Lilac Sugar from Call Me Cupcake
---
4. A Little Something for the Bar
Gifting something for your friend's cocktail bar will always be appreciated. Here are a few gifts for the cocktail lover:
---
5. An Adopted Olive Tree & Olive Oil
Give the gift of Nudo Olive Oil – adopt a tree and the gift recipient will receive olive oil from their very own tree!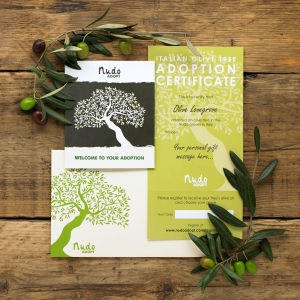 ---
Happy gifting! What are your favorite unique hostess gift ideas?